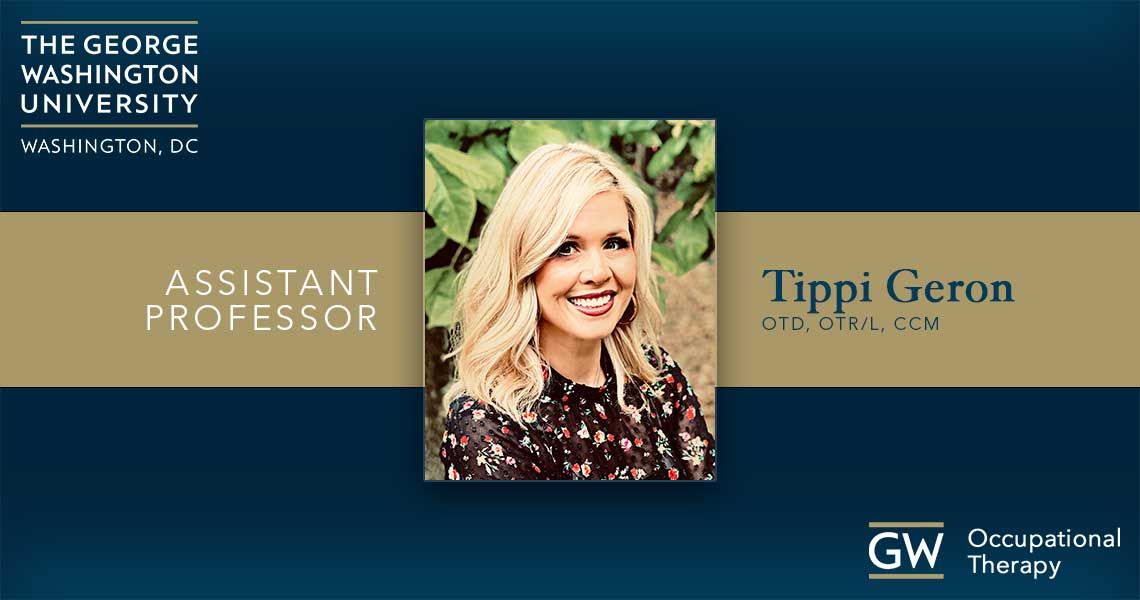 Washington D.C., June, 20, 2022 - The George Washington University (GW) is pleased to announce that Tippi Suzanne Geron, OTD, OTR/L, CCM, will serve as an assistant professor for the GW Occupational Therapy (OT) program in the School of Medicine and Health Sciences (SMHS), which is welcoming its inaugural class in Fall 2022. Dr. Geron earned her doctorate in Occupational Therapy at Shenandoah University.
In her new role with the OT program, Dr. Geron will be teaching Group Dynamics, Mental Health, Neuroscience, OT Theory, and Technology. Specializing in mental health, she has 9 years of clinical practice experience working with the adult population, hospital-based acute care, and community-based populations. Geron previously worked with clients on Medicaid to find ways for them to live independently in their homes and stay out of institutional or supervised placement. She also developed an interdisciplinary dementia program that helped to drive down institutional placement for those living with dementia.
"This is an amazing opportunity to combine my passion for OT, with an exciting program that produces advocates for diversity, equity, and inclusion," said Geron. "The hybrid education format also attracts students that wouldn't typically be in an in-class program. This will give us not only cultural, racial, and inclusive diversity but also attracts students that have age diversity and may be career switchers. The perspective from this varied population will educate us all and upend what might be thought of as a traditional pedagogy. We will be able to learn from, with, and about each other, and then export those lessons to a global community," said Dr. Geron.
"Tippi was a student in one of the first hybrid Occupational Therapy education programs and will provide an extremely valuable perspective for our students navigating our program. I am ecstatic to work alongside her," said Sarah Doerrer PhD, OTR/L, CHT, CLT, assistant professor.
Program Director, Roger Ideishi, JD, OT/L, FAOTA said, "Tippi is a needed addition to the OT program! She will be an inspiration to students with her range of experience that intersect across multiple systems of society and healthcare. Her range of personal and professional experiences she brings to the classroom will deepen the student's understanding of caregiving, and social and healthcare systems."  
Dr. Geron began serving in this new role at GW in June 2022.