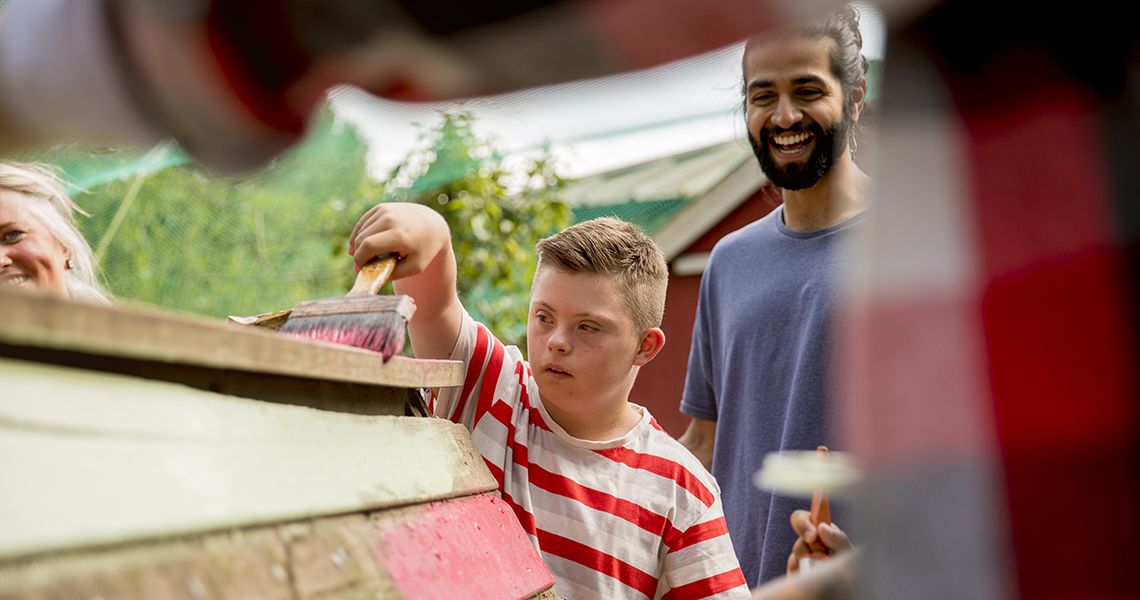 Realize Your Vision
The George Washington University's (GW) Entry-Level Occupational Therapy Doctorate (eOTD) program prepares graduates to be leaders. At GW, you will develop the knowledge and skills to become an excellent occupational therapy practitioner and also develop the foundational knowledge and leadership skills to be changemakers who empower people and communities across the lifespan, promoting full inclusion in society.
The GW eOTD program is for prospective students who want to become an occupational therapist and do not have a license in OT. If you are interested in pursuing a career in OT or looking to change career paths, the GW eOTD program may be a perfect fit for you!
View the Admissions for the eOTD program
Visit the AOTA website for more Frequently Asked Questions on OT Education and Career Planning.
A Community Based Program
The GW eOTD program strives to create a community amongst its students and the world around them. Our philosophy of occupational therapy empowering people and diverse communities carries through our curricular experiences with partnerships throughout our nation's capital. We prepare students with unique, distinctive, and forward thinking to advance health care and occupational therapy into the future.
Program Highlights
Apply with any Bachelor's Degree
No specific major required
No GRE Requirement
No standardized test scores required
Doctorate Degree in 8 Semesters
Enter the workforce fully prepared
Hybrid Format
One week on campus each month
Advanced Facilities
In downtown Washington, D.C.
Nationally 
Recognized
Educators and Scholars
Philosophy
We believe people achieve health and well-being when participating in life activities and are included in the fabric of society. We believe occupational therapy empowers people and diverse communities for meaningful engagement in life activities that promote inclusion and human flourishing in society.
Mission
The GW OT program prepares graduates to deliver evidence informed occupational therapy with a global reach, who advocate for the profession and whose leadership demonstrates a commitment to ensuring occupational justice and inclusive engagement in society.
Vision
The GW OT program aspires to influence the diversity in occupational therapy, amplifying our location in the nation's capital to develop practitioners who innovate and address the unmet occupational needs through collaboration with local, national, and global communities.
Program Accreditation & National Certification
The GW eOTD program has applied for accreditation and has been granted Candidacy Status from the Accreditation Council for Occupational Therapy Education (ACOTE). 
The program must have a pre-accreditation review, complete an on-site evaluation, and receive accreditation status before graduates will be eligible to sit for the occupational therapist national certification examination administered by the National Board for Certification in Occupational Therapy (NBCOT).
After successful completion of the exam, a graduate will be an occupational therapist, registered (OTR). In addition, all states require licensure to practice; however, state licenses are usually based on the results of the NBCOT Certification Examination. If accredited, graduates are eligible to take the national licensing exam which meets licensing requirements in the jurisdictions listed here. Applicants from jurisdictions not listed should inquire about requirements for licensing in that jurisdiction. 
A felony conviction may affect a graduate's ability to sit for the NBCOT certification examination or attain state licensure.
Accreditation Council for Occupational Therapy Education
6116 Executive Boulevard, Suite 200
North Bethesda, MD 20852-4929
(301) 652-AOTA 
www.acoteonline.org