eOTD Information Sessions
The George Washington University (GW) Occupational Therapy (OT) program invites prospective students who are interested in pursuing a career in occupational therapy to attend a virtual information session. Attendees learn about the profession, and GW's approach to education, as well as future career prospects. In addition, attendees will receive guidance on the admissions process. Further, attendees will be able to speak with a faculty member and admissions counselor   who will be able to answer questions about the Entry-level OTD program.
Please register to attend an information session by clicking the desired event date.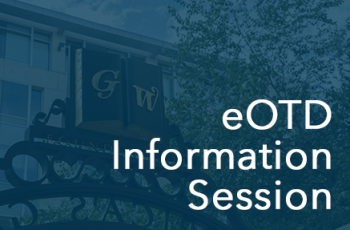 -
Join us for an upcoming online information session to learn more about our Entry-Level Doctor of Occupational Therapy (eOTD) program and our admissions process.