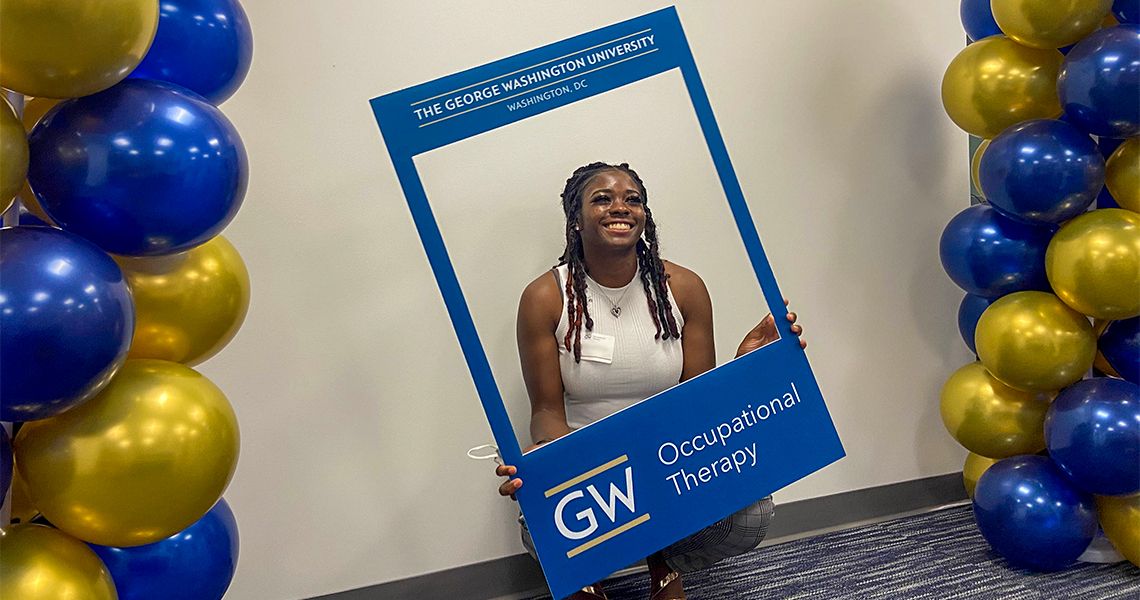 Occupational Therapy (OT) addresses how we decide, navigate, manage, and sustain the daily occurrences in life. Those occurrences can be brushing your teeth, drinking a cup of coffee, driving to work, baking chocolate chip cookies, reading a book, riding the bus, meandering around a museum, or holding hands with a loved one. When a person encounters barriers in participating in those daily occurrences, an occupational therapist examines the why, when, where, what, with whom, and how a person occupies time, space, and activities to engage a meaningful life. At GW OT, you will learn how to remove the barriers to independence and empower people and communities to live productive and meaningful lives.
Watch On-Demand Info Session  Watch Program Video
Application Deadline
Fall 2024 Applications Open – July 21, 2023
Deadline – June 1, 2024
Applications are reviewed on a rolling basis until all seats have been filled.
International Applicants: The eOTD program is in the process of becoming eligible to issue visa support documents but are unable to do so at this time.

Due to new U.S. federal government regulations, all international applicants should apply at least six months in advance of the application deadline. Additionally, all international applicants must review the information regarding Visa Requests and Financial Certification. 
Apply for Admission
Applicants to the Entry-Level Doctor of Occupational Therapy (eOTD) program must complete the following two applications. Applications open in July.
1. OTCAS (Occupational Therapy Central Application Service)

OTCAS is the standard online application system. You must create your OTCAS application first, in order to enter your unique OTCAS ID number into the GW Supplemental Application.

Application Fee: OTCAS will charge a fee based on the number of programs applicants apply to through OTCAS.

2. GW Supplemental Application

You may begin the GW Supplemental Application before you have completed and submitted your OTCAS application.

Application Fee: The GW Supplemental Application charges a non-refundable application fee of $60 for programs on the Main Campus. The fee is waived only for the following applicants:

GW alumni holding a GW degree or graduate certificate
Current GW degree or graduate certificate candidates
Graduates of Minority Serving Institutions (MSI)
Current McNair Program Scholars
U.S. active duty military personnel and veterans
Applicants granted a OTCAS fee waiver
Strong applicants will demonstrate the following: 
A commitment to service and social change
Respect for science and logical reasoning
Ability to adapt, collaborate, and think creatively
---
Admission Requirements
Completion of a Bachelor's Degree

The program invites applications from candidates who have, or will have received by the time of enrollment, an undergraduate degree from a regionally accredited college or university. Official transcripts must demonstrate completion of an undergraduate degree prior to matriculation into the program.

All bachelor degree majors are accepted.

We welcome the diversity of backgrounds, experiences, and voices as long as prerequisite coursework is in progress and completed prior to matriculating.

Prerequisite Coursework

The following courses must be academic, college-level course work completed at a regionally accredited institution with a grade of B- or higher. AP credits are accepted. The overall cumulative GPA must be a 2.8 or higher.

Human Anatomy and Physiology with Lab – 6-8 credits

May be two semesters of a combined Anatomy & Physiology course in lieu of individual Anatomy and Physiology courses.

Example: Anatomy & Physiology I & II with an anatomy lab; Human Structures and Functions I & II with an anatomy lab.

Psychology – 9-12 credits

Introduction to Psychology

Example: General Psychology; Psychology 101
Psychology major in lieu of Introduction to Psychology is accepted
Non-Psychology majors cannot use an upper level psychology course in lieu of Introduction to Psychology requirement

Abnormal Psychology

Example: Psychopathology
Psychology and non-psychology majors must have a specific psychopathology course

Lifespan Human Development

Human development courses are often taken within psychology or education courses. May be one course across the lifespan or two courses across different life phases. Preference for one course in child/youth development and one course in adulthood/aging development.
Example single course: Developmental Psychology; Development across the Lifespan
Example dual courses: Child Psychology, Adolescent Psychology; Adult Development & Aging / Gerontology

Sociology / Cultural Anthropology – 3 credits

Example: Introduction to Sociology; Sociology 101; Social Theories; Social Problems; Society & Culture; Cultural Anthropology; Ethnic Studies; Gender Studies; Family Studies; Aging in Society

Statistics – 3 credits

Example: Introduction to Statistics; Introduction to Biostatistics; Basic Research Methodology; Applied Biostatistics; Introduction to Research; Basic Research Methods; Research Methods; Applied Research

Recommended Prerequisites (Not Required):

Physics

Example: Introduction to Physics; Physics I and II

Public Health

Example: Introduction to Public Health; Public Health 101

For Outstanding Prerequisite Courses:

Applications with over 3 outstanding prerequisite courses will not be reviewed. 
Applicants with 3 or less, outstanding prerequisite courses will be reviewed and may be conditionally admitted.

For applicants that are conditionally admitted, a transcript must be submit showing all complete prerequisite courses by August 1. If the transcript is not received by August 1, the applicant's acceptance will be withdrawn. 

Admissions Essay

In addition to your OTCAS Personal Statement, please address the GW Supplemental Essay question (within the OTCAS online application).

Personal Statement
Supplemental Essay Question: In an essay of 250 to 500 words, please describe how your personal life experiences and choices, reflect the mission of the GW Occupational Therapy program. 

Mission: The GW OT program prepares graduates to deliver evidence-informed occupational therapy with a global reach, who advocate for the profession, and become leaders whose leadership demonstrates a commitment to ensuring occupational justice and inclusive engagement in society. 

Holistic Overview (Additional Information / Optional): Applications are reviewed holistically, for this reason, please use this section to expand on any life circumstances that may have impacted your performance and to enhance our understanding of you. 

Letters of Recommendation

You are required to submit at least three (3) letters of recommendation through OTCAS. Please do not submit additional recommendations directly to GW.

Evaluators who can attest to your academic performance, work ethic, and/or volunteer experience, are recommended. Recommendations from family members and friends are not acceptable.

Official Transcripts

Please submit an official transcript from every college and university you attended, whether or not a degree was earned, directly to OTCAS. No transcripts are submitted to GW at the time of application.

All non-U.S. transcripts (including those in English) must be evaluated by World Education Services and submitted directly to OTCAS.

International Applicants: English Language Test

The eOTD program is in the process of becoming eligible to issue visa support documents but are unable to do so at this time.

Applicants who are not U.S. citizens are required to submit official test scores for either the Test of English as a Foreign Language (TOEFL), Pearsons Test of English (PTE) Academic, or the academic International English Language Testing System (IELTS). International applicants are required to complete the question under the OTCAS online application directly related to the English Language Test. 

International students must provide official scores from one of the following English language proficiency tests, meeting the stated minimum:

Academic IELTS (an overall band score of 7.0, with no individual band score below 6.0) TOEFL (600 on the paper-based test or 100 on the internet-based test) PET Academic (68)

TOEFL code: 5246

International applicants who meet the following conditions may be considered for admission without submitting TOEFL, PTE or IELTS or scores:

They are a citizen of countries where English is the official language (as identified by GW ISO list of Exempt countries) OR
They hold at least a bachelor degree from a country where English is the official language as well as language of instruction OR
They hold at least a bachelor degree from an institution accredited by a U.S. regional accrediting agency

Observation Hours (Optional)

It is recommended, but not required, that applicants have approximately 40 hours observing two different occupational therapy settings to experience the scope, breadth, and depth of occupational therapy practice.
Transfer Credits
Applicants interested in transfer of credit from other institutions must be an admitted student to the program. The transfer applicant must provide evidence that they are in good academic standing and demonstrates an appropriate level of professional comportment. The OT program reserves the right to limit any transfer or advanced placement of credit to the basic sciences courses.
Transfer students must formally petition the OT Program Director to transfer credit into the GW eOTD program. GW SMHS allows up to six credit hours to be transferred if completed with a letter grade of B or higher at a regionally accredited institution and the course was not taken as part of a previously earned degree. If you have any questions regarding transfer or advanced placement credit, please contact us at GWOTD@gwu.edu.
Entrance Requirements
Students admitted to the eOTD program must acknowledge the following readings: