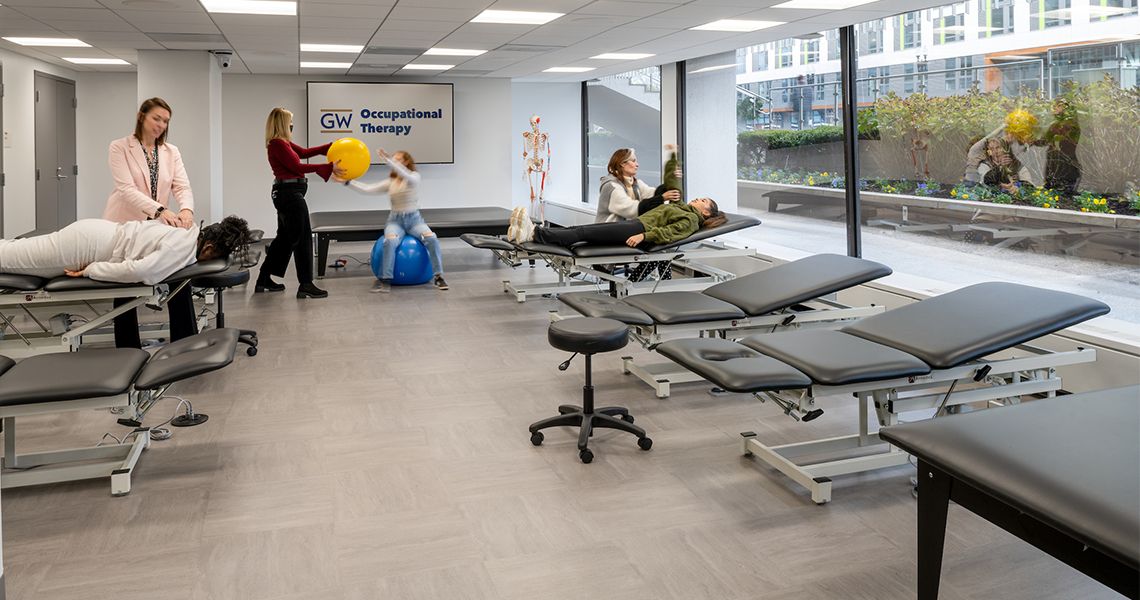 The GW eOTD program's full-time hybrid education format is designed to allow students to manage their schedule alongside their various life commitments while pursuing a degree. The convenient flexible schedule should accommodate all walks of life and allow students to learn when they are most productive and focused. 
The hybrid education format includes:
6 on-campus residency days per month
2 fully remote weeks with asynchronous and synchronous sessions
Fieldwork experiences with variable time commitments each semester
---
Monthly Schedule
Admitted students can expect to receive their calendar schedule before the start of the semester. 
*
Monday
Tuesday
Wednesday
Thursday
Friday
Week I
On-campus Residency
On-campus Residency
On-campus Residency
Remote
Remote
Remote
Week II
Remote
Remote
Synchronous Session
Remote
Week III
On-campus Residency
On-campus Residency
On-campus Residency
Remote
Remote
Remote
Week IV
Remote
Remote
Synchronous Session
Remote
*This schedule is for cohorts starting Fall 2023 and on. It is subject to change.
On-campus Residency Schedule
Students are required to meet on-campus five weekdays per month over the span of two weeks. Each day focuses on 1-3 courses and includes collaborative, experiential, and service learning activities in the Washington, D.C. community to develop clinical skills for practice.
On-campus residency days will be less frequent during the last three semesters for students to fully participate in clinic/on-site experiences.
View Residency Dates    View Service Learning
Remote Schedule
Two weeks are fully remote and include asynchronous and synchronous sessions. The experienced faculty use innovative teaching strategies and integrate clinical experiences in online course content to facilitate learning and retention throughout the curriculum.
Synchronous Sessions

Synchronous sessions are when the class meets virtually, using an online meeting tool, for 3-4 hours at a pre-specified date and time. Students may attend the synchronous session in the classroom in Washington D.C. or from the comfort of an alternate location.

Asynchronous Sessions

Asynchronous sessions are available online and include required course content designed to be viewed and/or completed during remote weeks. Content includes pre-recorded lectures, discussion boards, and other activities or assignments.
Faculty Availability
Faculty members are engaged and available during on-campus residency days and remote weeks through office hours and by appointment, in-person and online. 
Each student will be assigned a designated faculty advisor for professional and academic development. Faculty mentors conduct meetings in small groups and individually.
Faculty will be available in the
classrooms
 to provide additional instructional assistance for designated courses.
Expected Doctoral Workload
While the hybrid education format is designed for flexibility, the student is expected to adjust their commitments to meet and prioritize the doctoral education workload. Doctoral education requires an investment to learning that directly impacts future client care.
Consider the chart below for time-management and planning:
| | | | |
| --- | --- | --- | --- |
| Education Level | Course Credits | Class Time | Study Hours per Week |
| Undergraduate | 1 credit | 1 hour | 2-3 hours |
| Doctoral | 1 credit | 1 hour | 2-3+ hours |
A typical semester for a doctoral program is 15 credit hours, thus, 45 hours or more should be spent outside of class time completing course activities, assignments, and studying.
Work-life Balance
We recognize that students may have to work while pursuing their doctoral education. Below are suggestions for managing a work schedule alongside a doctoral education. These suggestions may vary per student based on their ability to manage their time and productivity levels. There are certain circumstances in which a student may be unable to manage a job alongside a doctoral education.
During required on-campus residency days, work must be adjusted.
| | |
| --- | --- |
| Hours Worked per Week | Suggestion (may vary) |
| 0-10 | It is highly recommended to keep workload at a minimum until time management, productivity, and study habits are mastered. |
| 10-20 | This workload depends on the student's time management, productivity, study habits and the type of job. |
| 20+ | This workload is not advisable alongside a full-time doctoral education. |