Class Excursion to Smithsonian Museum in Washington, D.C.
On Wednesday, September 6, students of the GW occupational therapy program went on an excursion to the National Portrait Gallery of the Smithsonian Institution for the lab portion of their Human Occupation course. 
"We use the capital city as our learning space. The Smithsonian museums are free, too, which provides a great public learning space and opportunity for students to delve into the meaning of occupation," said program director and professor, Roger Ideishi, JD, OT/L, FAOTA.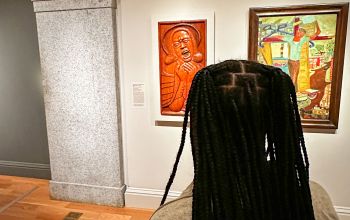 The lab focused on the student's observation and interpretive skills through their analysis of paintings and artifacts. In pairs, students interpreted two pieces of artwork and then explored why perspectives and interpretations of art, concepts, or items may vary among classmates.
  
For many students, the highlight of the class was the interactive aspect of it and the relevance to current curriculum. First-year OTD student, Quenita Simms, chose 'The Soprano at the Mourning Easter Wake of 1968' by Daniel Pressley, a wooden portrait of a singer at Martin Luther King Jr's wake in 1968. 
"By seeing the portrait in-person, rather than online, I was able to see a lot more of the context because it was a 3D structure. I really appreciated this experience because I was able to apply what I learned and Dr. Ideishi really helped me to dig deeper," said Simms.
"I was super excited about the assignment at the National Portrait Gallery! It's opportunities like these, where we're able to take advantage of the DC location, that made me choose the GW eOTD program," explained Jenny Kim on the location of the lab.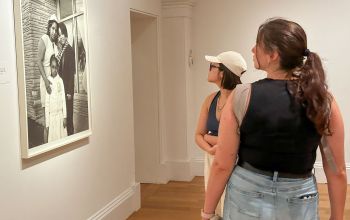 Kim also went on to explain why she believes perspective is so important, especially in the field of occupational therapy, "As I continue my first semester here, I feel that I am constantly relearning how not everything is 'black or white' and we live in a world full of 'gray areas.' There can be beauty in the 'gray area' even when it feels uncomfortable. Overall, the assignment was very enlightening."
What students were able to take away from this activity further exemplifies the values of GW OT and its aims to diversify occupational therapy, through use of its location in the nation's capital to develop practitioners who innovate and address the unmet occupational needs through collaboration with local, national, and global communities.