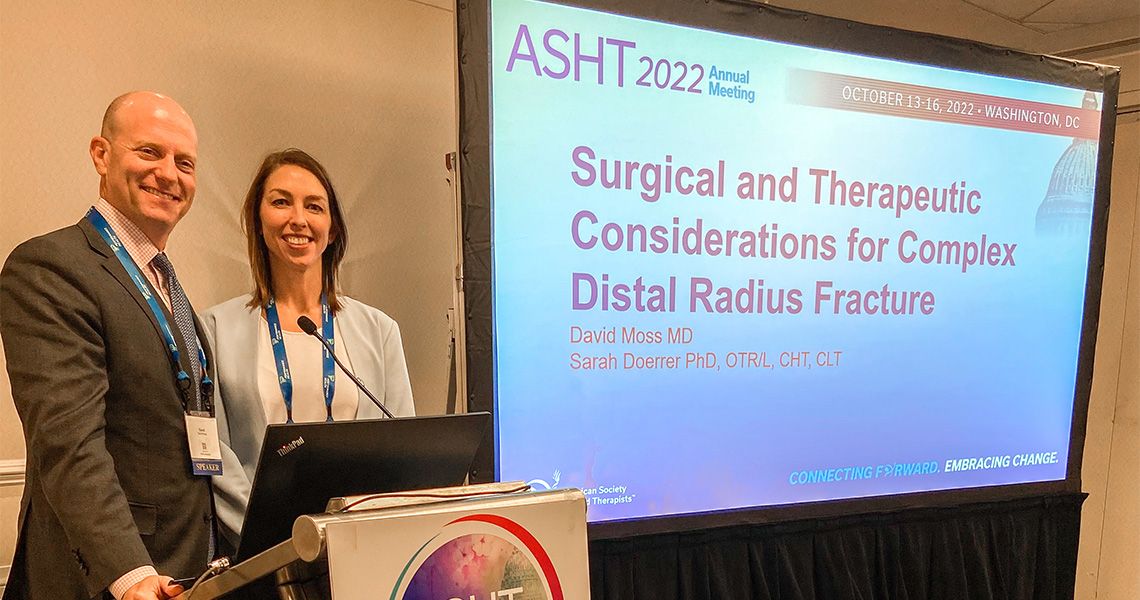 Washington D.C., November 3, 2022 – Sarah Doerrer PhD, OTR/L, CHT, CLT, assistant professor in the Entry-Level Doctor of Occupational Therapy program and David Moss MD, assistant clinical professor of the Orthopaedic Surgery Department at GW, presented at the 45th Annual Meeting of the American Society of Hand Therapists (ASHT) in Washington, D.C.
 
Their presentation explored the complexities and complications that may be present in patients with distal radius fractures (DRF). They explained the use of evaluation tools to screen for complications post DRF, what interventions are effective, and how x-rays and radiographs may be used to predict poor outcomes.
 
Dr. Doerrer reflected on the beginnings of her work experience in a fast-paced clinic as a Certified Hand Therapist (CHT) and recalled a transformative moment of realization when occupations were not being incorporated into her treatment. "Prescribing all my patients exercise, I fell into a hole until I started realizing I'm not doing a service to my patients… For any aspiring CHTs: Use occupation. Always try to stay true to occupation because that is what we do in our daily lives. It occupies every part of our time," said Dr. Doerrer.
 
When asked about the impact of his collaboration with Dr. Doerrer, Dr. Moss emphasized the importance of communication between a patient's surgeon and therapist. "[Dr. Doerrer] alluded to it earlier – where I can tell her that a patient is complicated or she tells me so-and-so is not progressing – that communication has been really critical… That is the best way to optimize the care for our patients," said Dr. Moss.
 
Dr. Doerrer hoped current and aspiring CHTs left the presentation with the intention to apply a holistic view of their patient when creating treatment plans. "I was really fascinated [by] this idea of really studying the medical history of the patient you're treating…" Dr. Doerrer suggested refraining from glossing over medical history and to consider "Who is this person? What are their prior medical conditions? Why is their body reacting to this injury in this way?" 
 
Dr. Doerrer is a member of the research division of ASHT, was on the planning committee for the 2022 Annual Meeting, and was awarded the 2022 Outstanding Service Award for a consecutive year.