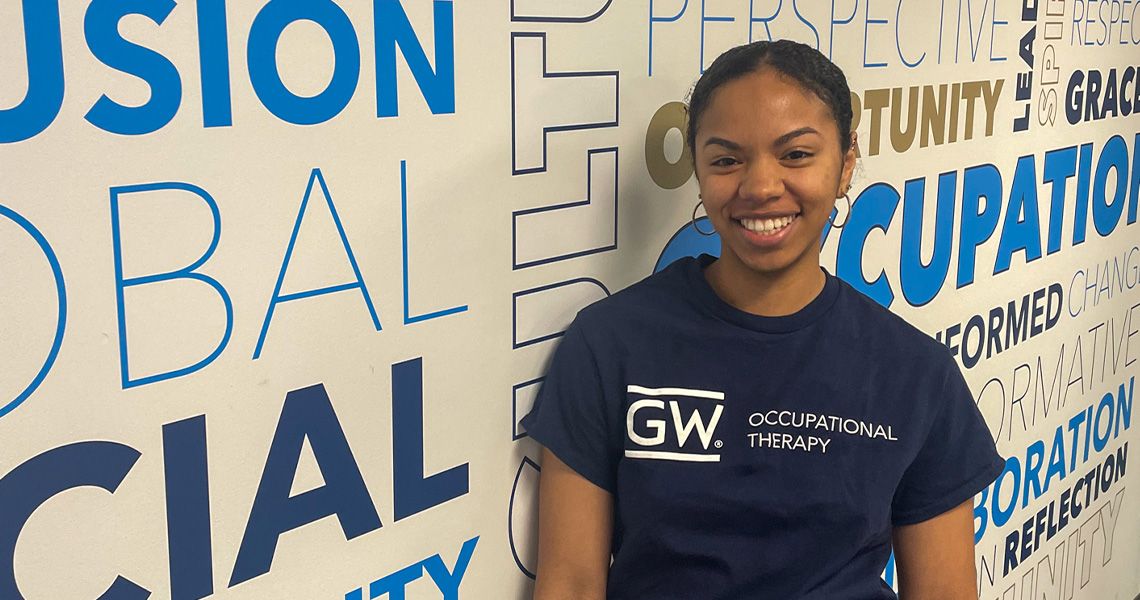 Kiara Johnson, a first-year graduate student in the Entry-Level Doctor of Occupational Therapy (eOTD) program, has been awarded the Anti-Racism Coalition Scholarship from the George Washington University (GW) School of Medicine and Health Sciences (SMHS) Office of Diversity and Inclusion. 
The Anti-Racism Coalition was established in 2020 and works to create a culture of equity, equality, and opportunity for all. Johnson's demonstrated commitment to anti-racism work, including efforts to dismantle policies or practices that prevent achieving greater health equity in healthcare, led to her winning the scholarship. 
"I am honored to have won the Anti-Racism Coalition Scholarship. This opportunity will help me achieve my academic and career goals to further implement anti-racist practices in the workforce and in healthcare and give back to the community and GW through service and education," Johnson said.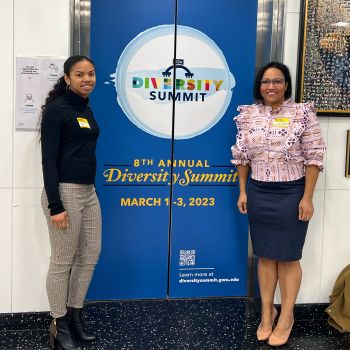 Johnson recently presented at the GW 8th Annual Diversity Summit with Dr. Lisa Bagby and discussed why the occupational therapy course, Health in Social and Population Contexts, is unlike most health profession courses. The faculty member and Johnson explained how the class ties the concepts of health and disparity together and views inequity through the lens of social determinants of health."
There is a need to change how health disparity and health conditions courses are taught. Some universities teach them as mutually exclusive topics, but GW teaching it together showed how health and social accessibility can impact or improve proper care for health conditions," said Johnson.
Johnson plans to continue to give back to GW and the surrounding communities post-graduation by offering pro bono services to organizations, such as Project Homeless Connect, so that underserved populations can receive care. She also looks forward to presenting at more conferences, such as the Washington, D.C. Occupational Therapy Association, to educate students on how to be anti-racist and provide diverse representation in the health profession.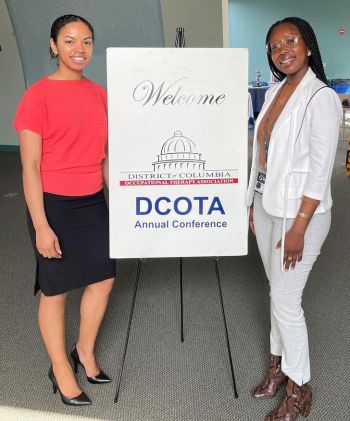 "I hope to be a beacon of change in my community and advocate for equal treatment regardless of physical or mental disabilities. Race, disability, and sexuality have each been constructed by societal expectations and norms and I am motivated to dismantle them in order to create a more equitable and inclusive environment." 
Johnson acknowledged GW's effort to increase diverse perspectives through their faculty and student body as well as by reshaping the curriculum in the occupational therapy program. She stated that "GW is making strides to diversify the class and reduce racist ideologies through inclusive education, mentorship, service learning, and changing what a 'typical' cohort looks like. The GW program's hybrid education format allows people from all walks of life to further their education. As a mother, I'm proud to be a part of one of the most diverse groups of students in an Entry-Level Doctor of Occupational Therapy program."