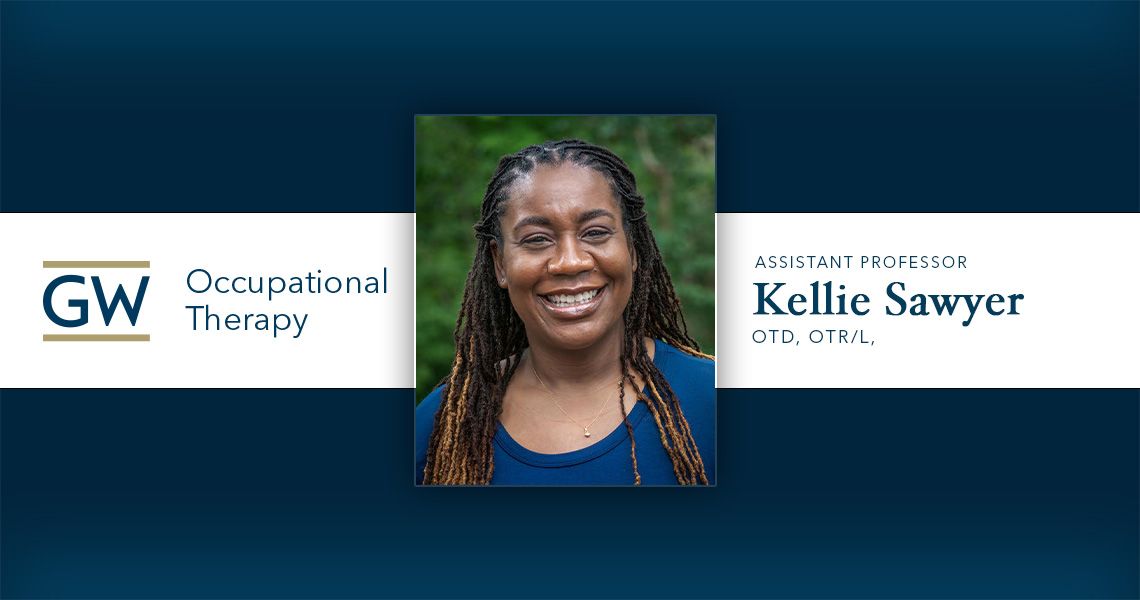 The George Washington University (GW) is pleased to announce that Kellie Sawyer OTD, OTR/L, will serve as an assistant professor for the GW Occupational Therapy (OT) program in the School of Medicine and Health Sciences (SMHS). 
Dr. Sawyer has twelve years of clinical practice experience, primarily working with older adults in a wide variety of settings, such as: short and long-term acute care, inpatient rehab, skilled nursing, home health, and the PACE program.
"I'm really looking forward to teaching students to be in a constant state of reflection. I want to instill the principle that culture, and respect are at the forefront, if not on the same playing field, as clinical competency. To achieve health and wellness, clients need to feel connected with and treated with dignity," said Dr. Sawyer.
Dr. Sawyer's research focuses on the impact of implicit bias in the delivery of services and incorporating cultural humility to mitigate the impact of bias. Her research found consistently inconsistent responses in regard to explicit and implicit bias and diversity. Considering her results, she said, "we know bias is there, but people don't want to show it." Sawyer believes that bias becomes harmful when it is not recognized and left unmanaged. 
"Kellie is an incredibly reflective practitioner, with an extremely calming presence, who embodies the role of a quiet disruptor. She will be a very strong asset to the team as she understands systems-thinking and has ample experience initiating difficult, but necessary, conversations. She is really going to help contribute to a brave space for driving big changes and advocating for marginalized communities," said program director Dr. Roger Ideishi.
Dr. Sawyer earned her Master of Occupational Therapy from James Madison University and her Doctor of Occupational Therapy at GW in the post-professional program. She recently served as clinical assistant professor at Emory & Henry College in southwest Virginia.
"What GW is doing with the eOTD program– presenting OT from the perspective of Justice, Equity, Diversity, and Inclusion– is very special, timely, and innovative. Attending GW reignited my drive to take action and exposed me to frameworks and tools to influence my sphere of practice. I can't wait to be a part of a team that is devoted to influencing and making sustainable change in society," said Dr. Sawyer.
Reflecting on Sawyer's joining the GW faculty, Dr. Lisa Bagby said, "Beyond her significant clinical expertise, Kellie brings her personal experiences with hybrid education, which will be a major asset to the students in the OTD program. I'm looking forward to working alongside Dr. Sawyer to create much needed change in the occupational therapy profession."
Assistant professor Dr. Sarah Doerrer, who taught Dr. Sawyer at GW mentioned, "Kellie understands that social issues not only impact how we are able to provide care to clients, but also how it leads to disparities in science which further contributes to bias and impacting overall care. She is going to be an excellent addition to the faculty, here at GW."
In her new role, Dr. Sawyer will be teaching the following courses: Systems and Advocacy, Occupational Therapy for Adult Rehabilitation, Case Analysis (I-IV), Movement Science, Neuroscience for Rehabilitation, and Doctoral Experience (I-IV).
Dr. Kellie Sawyer will begin serving in this new role in May 2023.